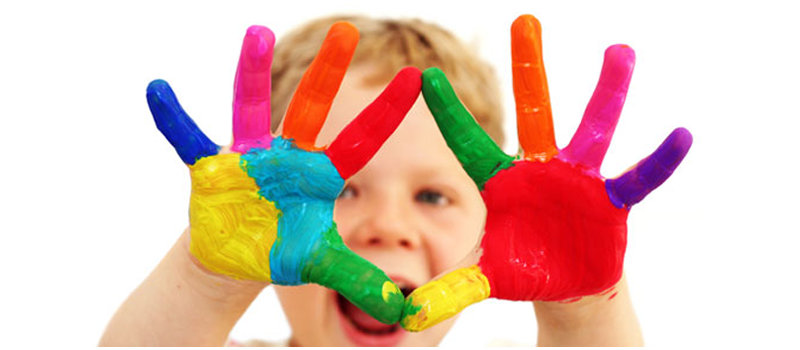 Art Therapy is a psychotherapeutic service that encourages your child to express his or her feelings, enhances social skills, resolves frustrations, and fosters coping with difficulties in constructive ways. Children need to learn through their senses and art is a great way of accomplishing this. The goals of Art Therapy and Movement Program are to help your child grow socially and emotionally; to work through obstacles; and to benefit from the utilization of movement for enhancing physical awareness. The art making process will further the emotional, cognitive, social, and physical integration of the participants.
Each session will consist of a structured plan, tailored to meet the needs of each individual child and the group as a whole. Sessions will implement learning perspectives that include activities and themes with underlying academic and expressive objectives. We work on self help skills, such as potty training, eating, dressing and grooming.
We believe on allowing the child the time they need to perform the self-help task and to understand the sequence in which they develop self-help skills. We then provide them with opportunities to develop these self-help skills, through modeling and providing appropriate feedback. The program is lead by a Masters level Art Therapist and trained aide supports. A group consists of 4 to 5 children and a 2 to 1 ratio is maintained. The two-hour drop off program is designed for children that are not yet in school. The program runs from 10 am to 12 pm, Monday through Friday. The application and other important information are available in the library section of this web site. Play Therapy is a structured, theoretically based approach to therapy that builds on the normal communicative and learning processes of children. The curative powers inherent in play are used in many ways. Therapists strategically utilize play therapy to help children express what is troubling them when they do not have the verbal language to express their thoughts and feelings. In play, toys are like the child's words and play is the child's language. Through play, therapists may help children learn more adaptive behaviors when there are emotional or social skills deficits. The positive relationship that develops between therapist and child during play therapy sessions provides a corrective emotional experience necessary for healing.
Play therapy may also be used to promote cognitive development and provide insight about and resolution of inner conflicts or dysfunctional thinking in the child. Our Play therapist will work collaboratively with other professionals involved in the care of your child